DRG presents at the 10th International Conference FRP Unlimited
In 1995 the first International Conference was held for plant designers, engineers, end-users and plant operators to meet and discuss FRP material. This conference is to gain knowledge and exchange experience on this unique material. For the 10th time the conference which is connecting professionals to the value of Fibre Reinforced Plastics will be held in Munchen at the Auditorium Chiemsee of the TUV SUD.
DRG is a founding member of the ISO14692 committee, the DNV Committee for certification of fiberglass craftsmanship and is (co-)author of many technical papers and code contributions. DRG is often consulted by many of the major fiberglass suppliers as an independent consultant for our practical approach to fiberglass engineering solutions. On the first day of this 2-day conference, Mick Bouwman one of DRG's project engineers will give a presentation on the ISO14692 edition 2017, the changes and the background. In November of last year Mick Bouman wrote an article on our website regarding the revised ISO 14692: 2017. To read the full article click here.
More information on this www.tuev-sued.de/frp-unlimited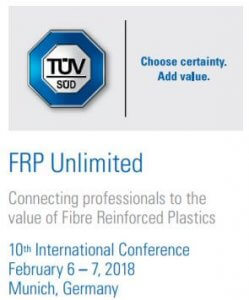 Interested to know more?
Please contact:
Mick Bouman
Project Engineer